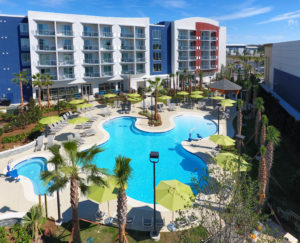 Thursday, April 12, 2018 through Saturday, April 14, 2018
We at the AASP are getting geared up for our annual spring conference!! We have some great speakers lined up who are going to be sharing some new and exciting topics with us. The venue for this year's event is the Orange Beach Event Center which is located next door to our host hotel, Springhill Suites at The Warf. Both locations are beautiful and boast a gorgeous landscape and scenery. The hotel and event center are conveniently located across the street from The Warf which is known for its great shopping, dining, and entertainment. We have partnered with some of the restaurants at The Warf to offer you a discount for dining with them. Check in on Thursday and take advantage of these deals for dinner that night.  You could also plan to stay around after the meeting on Saturday and enjoy dinner and a show. The Warf will be presenting Styx, REO Speedwagon, and Don Felder in concert Saturday night.
We will have two time slots available for you to get registered and pick up your welcome packet. The board members will be available to get you signed in on Thursday evening and Friday morning before our sessions begin. Our host hotel provides a wonderful complimentary breakfast to its guests, so be sure to stay on site to take advantage of this great perk! We will provide snacks and drinks throughout the day, as well as a boxed lunch on Friday prepared by Bayes Southern Bar and Grill. We are very excited to announce our dinner plans for Friday night! We will be having a private party on the terrace at Bayes Southern Bar and Grill, which is located on the same grounds our host hotel. Dinner, drinks, and dessert will be available for our members and guests, as well as live entertainment! We hope you will make plans to spend your evening with us!
Specialty room rates are only available until March 22, 2018 or until our group block is sold out. Be sure to reserve your room now to get the lowered rate of $189.00-$199.00. We will make a schedule available for viewing very soon. We look forward to seeing you all in April!
SpringHill Suites Orange Beach at The Wharf is delighted to welcome the 2018 AASP Spring Meeting
It is our pleasure to offer guests of the 2018 AASP Spring Meeting the following special rates as outlined below. The special rates will be available until Thursday, March 22, 2018 or until the group block is sold-out, whichever comes first.
Rates are 189.00 USD - 199.00 USD per night.
For Reservations call 1(888)236-2427. Ask the associate for your group code: SSSR or click on the book now link below.
*Please keep in mind, group discounted rates are available until the group block is full or until the reservation cut-off date of Thursday, March 22nd 2018 whichever comes first.